---
---
At Turtleback, we strive to provide people with a peace-of-mind experience. As an American Manufacturer, this means providing our customers with protective carrying case solutions that are built to last. We want our customers to enjoy unmatched reliability and confidence.
Over the last 20 years, we have developed American Made and ergonomically designed belt-clip cell phone holsters. We maintain absolute control by operating and manufacturing solely out of our facilities in the United States of America. As a result, our customers enjoy proper mobile phone carrying case solutions, fast turnaround times, consistent quality, and competitive pricing.
All Turtleback products come with a 100% Satisfaction 90-Day Guarantee. If you are not completely satisfied with your product, you may return it within 90 days for a full refund.
How can I make sure that I am purchasing the right product for my device?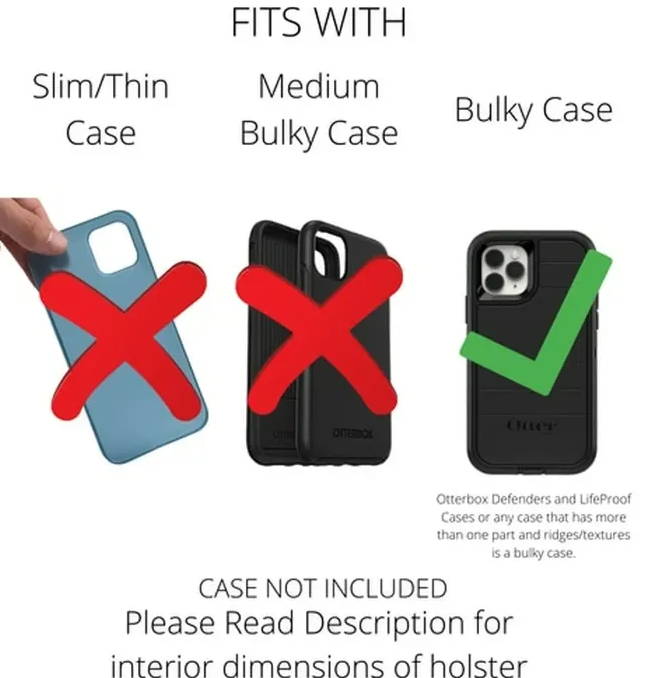 We've all noticed it - phones are growing bigger and bigger. We've often heard people ask, "how are we supposed to carry these extra large phones, especially when they just keep growing." Our carrying cases come in many different sizes and we design them specifically to accommodate certain popular cover cases such as the Otterbox Commuter, Otterbox Symmetry, and the bulkiest of them all, the Otterbox Defender. These cases can range from skin tight, such as the silicone and plastic snap on covers, to large and bulky. Thick ridges and 2 to 3-part cover cases will definitely mean you need one of our larger holsters. Most of our listings will have an image like the one on the left to differentiate the types of cases and the description and titles will also mention the type of cover that our carrying case is designed to accommodate. But while on your shopping journey, we know you want to get it right the first time around and there is a way to do that.
Please measure the exterior dimensions of your device (including whatever cover you may have on it and intend to continue using). Measure the Length x Width x Depth and use those dimensions to compare to the listed interior dimensions of each of holster webpages.
If you'd like to skip this process, we'd love to do the investigating for you! Simply email your exterior dimensions to help@turtlebackcase.com and we will respond with your best fitting options.
How does the Patented Belt Clip System work?
Our Patented Belt Clip System is different from any other belt clip cell phone holster system you've seen. It has what we call the 4 R's: Ratcheting, Removable, Rotating, and Replaceable. As you can see in the video to the left, you simply rotate the clip 180 degrees and then slide it out from the top of the holster. When you're ready to put another clip on it, you slide the clip back in upside down and rotate it into position. The ratcheting design makes it so that it does not rotate on its own; one must apply force to rotate the clip and remove it and reattach it with ease. This system also allows you to keep a clip on different belts and swiftly attach your holster to whichever belt you're wearing that day. If you don't wear belts, that's ok. Many of our customers slide their standard clipped holster onto their pants/shorts, their pant's pocket, or even on their tool bags.
What are the Clip Options and What's the Difference Between Them?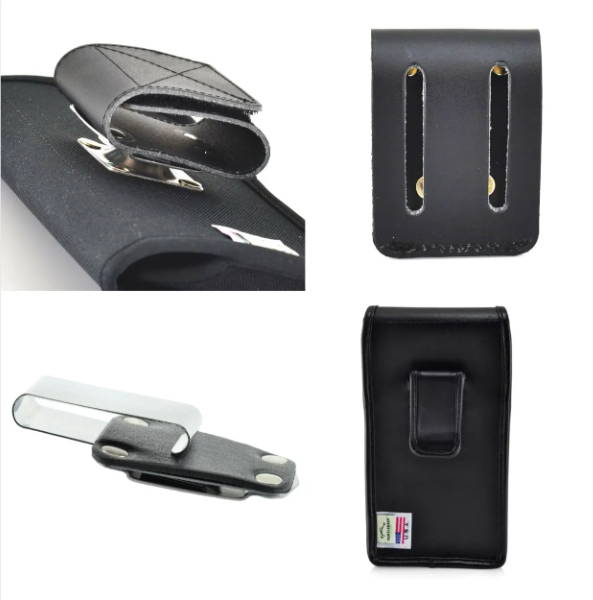 As you may know by now, our Patented Belt Clip System involves the 4 R's: Ratcheting, Rotatable, Removable, and Replaceable. This means that, with the compatible holster, you can switch between different style clips based on your needs. Our standard metal clip is 1.75 inches long and is L shaped. We also have a slide on J-clip that cuffs under the belt. Both of these metal clips come in 1.75 in and 2.25 inch length to accommodate duty belts. Our Velcro Belt Loop is adjustable and made to accommodate any size belt. The leather covered Belt Loop has two slits in it and once you run your belt through it and attach your holster, that thing isn't going anywhere. These are all very secure options. We also manufacture leather carrying cases that have a leather covered, fixed belt clip that is flush with the backing of the holster. We call it the Executive Belt Clip.
When it comes to our Fitted Flip Phone cases, all of the removable clips from above apply but there is one extra option. The ratcheting and rotatable plastic clip option works great for folks who have a tough time using great force in their hands or fingers. The plastic clip is easy to maneuver and does a fine job of holding onto your flip phone. Please note, the plastic clip is only available for and compatible with fitted flip phone cases.
Finally, we have just recently added a new option to our clip menu and, ironically, it is the option for no clip. Exclusively for our leather fitted flip phone cases, customers can opt out of having a clip attached to their fitted carrying case at all. Enjoy the quality and durability of our leather fitted flip phone carrying cases without a belt clip system attached.
Why are Turtleback Case holsters the most customizable on the market?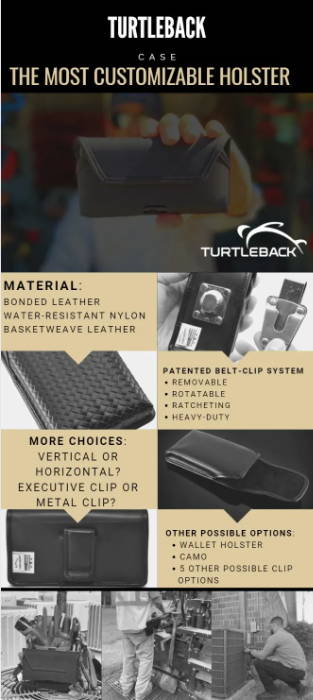 "There are so many options!" is the reaction we usually get when on the phone with customers. Please remember, we'd love to hear from you Monday through Friday from 8 am to 4:15 pm PST at 855-915-0005. We can help you find out which holster is best for you as quickly and conveniently as possible, because there are many options to consider.
Material: After comparing dimensions and finding the perfect fitting holster for you, it's time to decide which material you want. If you prefer Leather, you can choose between sleek black leather, textured basket weave, or soft brown leather. If you would rather go with something that is not leather, then choose the durable, water and dust resistant nylon material in black. When it comes to our fitted flip phone cases, choose between black and brown leather and nylon material.
Orientation: Our smart phone holsters are designed in either Vertical or Horizontal position. This will affect how the holsters sits on your hip, but if you have the rotatable clip system, then you can interchange this positioning as well. The other main difference is the length of the closure. On a horizontal holsters, your cell phone will lay on its side and it will stand strait up and down inside a vertical holster. This changes how you maneuver your hand when swiftly pulling the cellphone out and pushing it back into the holster.
Clips: See Above in "What are the Clip Options and What are the Differences Between Them?"
Other possibilities: We carry a limited amount of horizontal, black leather wallet holsters. Each has slits that are flush to the backing inside the holster where one can store cards and cash. It also includes a metal ring that you can attach your keys too. Similarly, we carry a limited amount of Camouflaged Nylon material for custom camo holsters. And finally, for those of you who prefer anything but a magnetic closure, you may request a Velcro or metal snap closure as well.
Will the Magnetic Closure stay shut? Does it affect the phone's mechanics?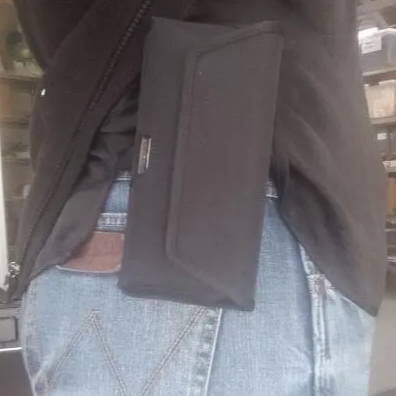 As you can see in the image to the left, the woman is wearing her horizontal holster rotated into a vertical position. The magnetic closure is not affected by this change in equilibrium. It will not open without the force of your fingers. The rare-earth magnets used to close the holster shut has been tested by us for years now and has proven to be the most secure, convenient, and sleek way to keep your phone protected within its holster. As long as the holster you purchase is the correct size, then the magnets will align in a forceful harmony that can only be undone by your hand. Does it take a lot of force to open it? It takes almost the same amount of force you use to unscrew the cap off of a milk jug.
Some folks have posed the question as to whether or not magnets can harm you phone and after extensive research we found that, yes they can. But only if they are very, very large. You would need to take one of our small magnetic disks and multiply its size by 100% to even begin to affect the internal magnetic sensors and steel inside your smart phone. Rest assured, using a magnetic closure will not interfere with the mechanics of your device.
Do you provide bulk discounts?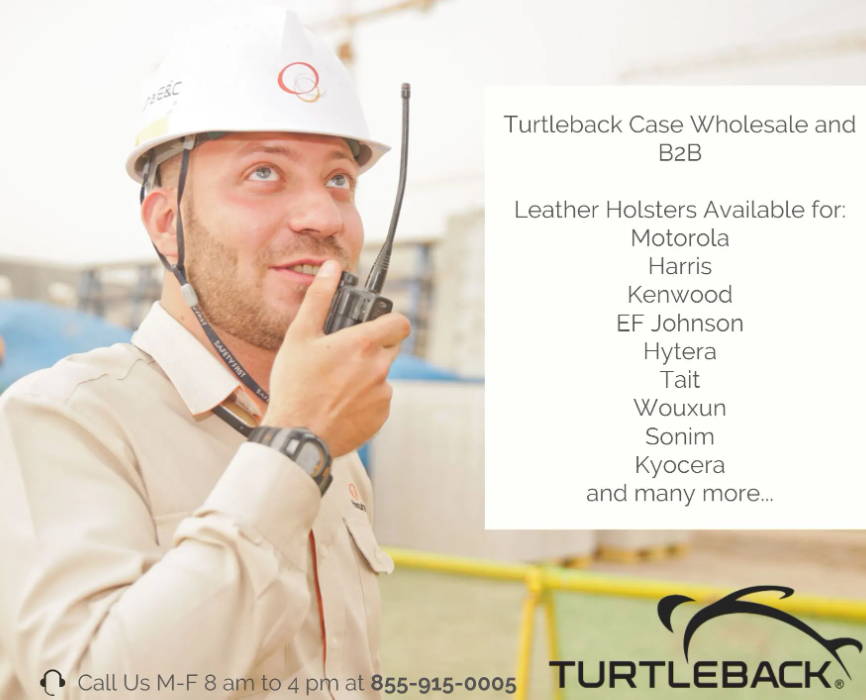 Yes, of course! We have the privilege of designing, manufacturing, and distributing cell phone holsters, two-way radio holsters, face masks, computer scanner holsters, and more to fire and police departments throughout the country. We also often outfit contractors and their employees with durable ways to carry their phones and iPads. School systems, logistics companies, and other large scale businesses trust us to provide them with quality products and solutions for their tech carrying needs.
Our Vice President of Wholesale, Tom Sutter is just a phone call away and he would love to answer any questions you might have about discounts and lead times. Reach him at 818-433-0840 or at help@turtlebackcase.com
You can also fill out this form.