Published by Maaz at Turtleback on Apr 20th 2022
Motorola APX Plastic Holsters Vs. Turtleback Bonded Leather Holsters
Picture this: You're a cop on one of your typical workdays… A man comes to you and reports that a thief just snatched his wallet. You start chasing down the thief on foot.
Now, as any other cop, you would be carrying your radio in a holster. The main question is: How would you react if your radio came completely off your belt and hung by your side during the pursuit? Or even worse, if it dropped on the floor without you knowing it? You would be furious at the holster manufacturer!
A similar incident happened with a cop who used a Motorola APX plastic holster. The guy has been in service for 15 years so there's no chance that he didn't know how to use the holster properly: It was just not the right product he bought. And yes, he was quick enough to give the worst possible review about this product on Amazon. Here are a couple of phrases from his review:
Do NOT buy this product.
This is the worse radio holder I have ever seen.
Let's be honest here: Motorola specializes in making great radios, not great holsters. On the flip side, Turtleback specializes in making great holsters and cases, not great radios. If each company tried to dabble in other's products, they won't achieve the same high quality the other company offers. The same is the case with Motorola plastic holsters. They're just not up to par with Turtleback holsters!
Let's compare these two holsters in detail!
Charge The Radio While Keeping The Holster On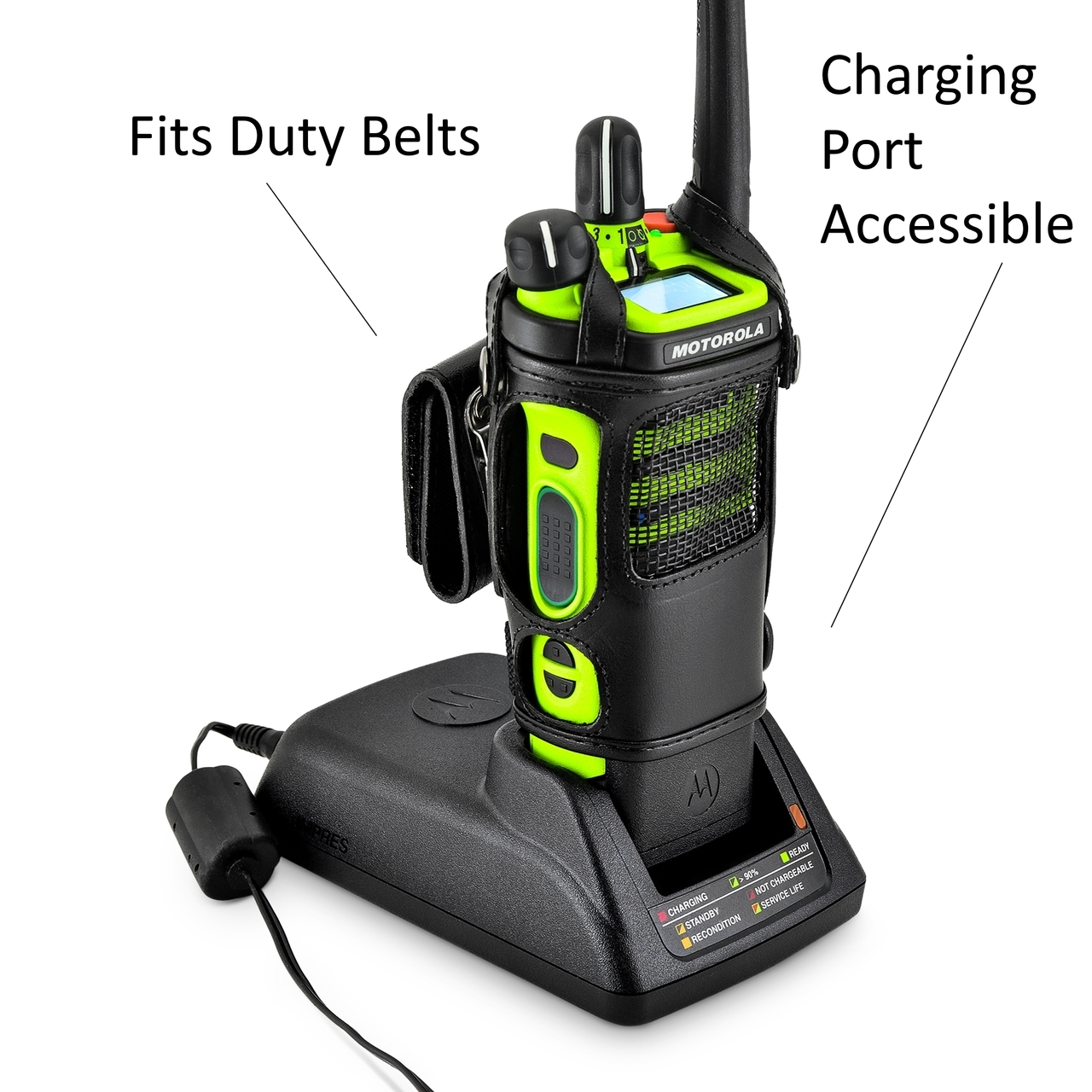 Turtleback radio holsters have many functions that Motorola APX plastics holsters don't. For starters, they have the ability to keep the holster on at all times even when you need to charge the radio. They're also compatible with bay charges and car chargers.
On the other hand, Motorola APX plastic holsters are designed in such a way that you need to remove the radio from the holster if you want to charge it.
Opening For The Back Screen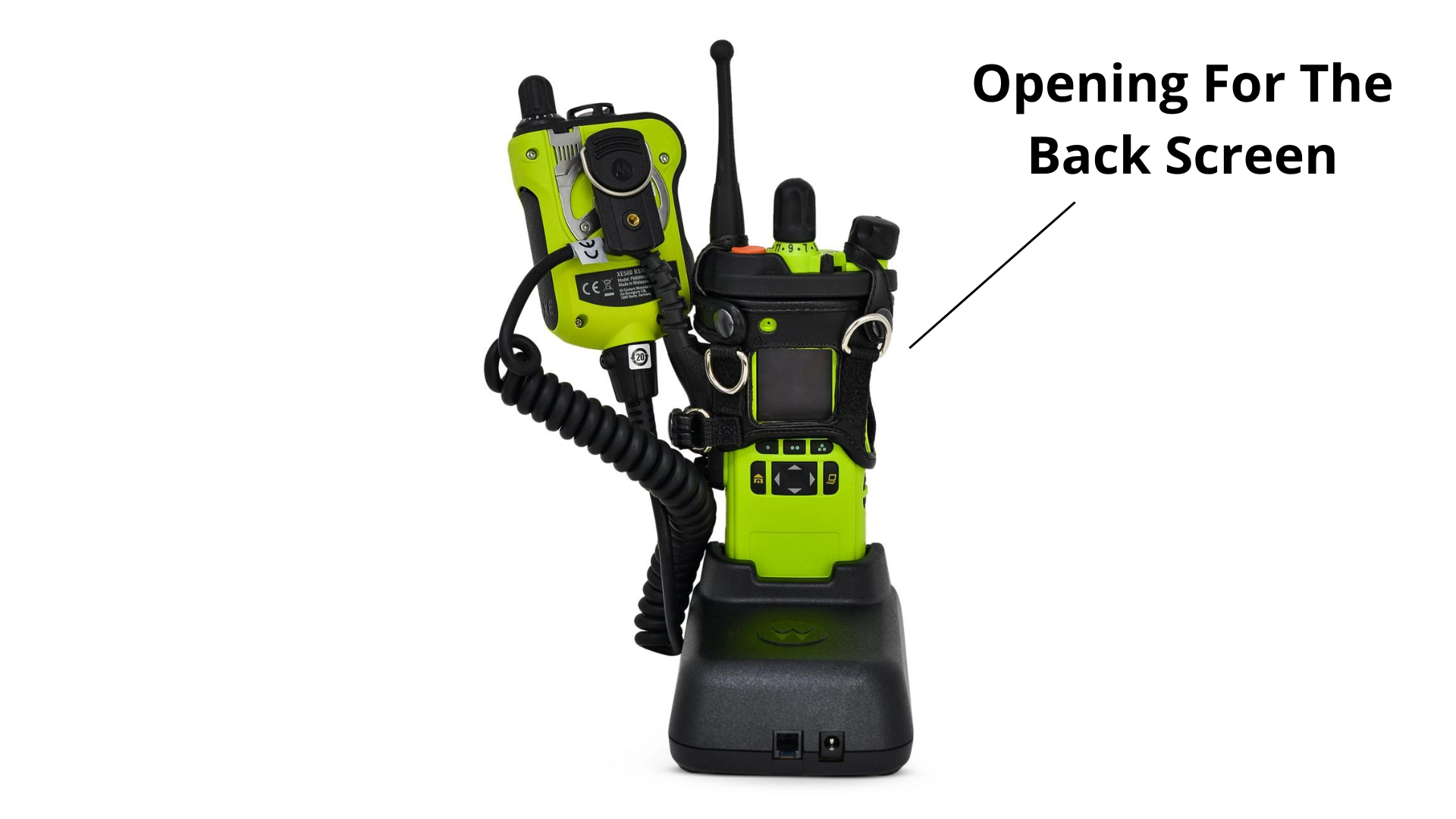 If you use a Turtleback holster, the rear screen functionality on your radio will remain accessible. Buttons under screen are also more accessible through new material.
That's not the case with the Motorola Plastic holster. First, it's difficult to put the radio inside the plastic holster. Then, the display is inwards, which means you'll have to draw the radio out to see what's going on on the screen.
There are other design flaws too. The spring-loaded metal clip on the back has too much play if the holder is on your belt. That increases the chances of it dropping especially if you move too much! More on that in a second!
Made With Protection In Mind
The Turtleback holster is durable and protective (and it looks and feels great)! It's made with Dirt Resistant Rugged Heavy Duty Leather with a soft inner lining that helps protect the radio from scratches.
Alternatively, the Motorola holster is made of cheap plastic and has no mechanism to prevent your radio from getting scratched.
Ergonomic Design
Ergonomic Snap Closures keep your Radio in place. The design allows you to access your device with easy release snaps. There's also an additional 3rd snap for Mic Attachment fitment!
The user-friendly design has more to offer: The radio holder case has D-rings so that it can be connected to other straps and accessories.
As you've noticed, we've designed our holster with maximum utility and practicality in mind. The Push-To-Talk, Microphone attachment, and Charging functions of your Motorola APX 6000XE/8000XE are Accessible while in the holder. You won't find many of these features in the Motorola counterpart.
Keep Your Radio Intact, In All Scenarios!
This is arguably the most important feature of our holster versus the Motorola one. No matter if you're chasing down a thief on the road or just getting out of your car, Turtleback holsters are designed in a way to keep your radio intact.
On the other hand, the Motorola holster has too much play when it's on your belt. That means it'll drop off your belt every time you get in or out of the car or are moving too fast. This implies that this plastic holder is not suitable for a traditional patrol duty setup.
Some customers have complained that the holster does not fit the radio as advertised. Also, the clip is not big enough to fit the duty belt it advertises. So if you have the standard 2.5" leather belt, this holster won't fit it.
Plastic Vs. Leather
It's made with Dirt Resistant Rugged Heavy Duty Leather that's known for its high quality.
On the opposite side, the Motorola holster is made of plastic that's notorious for its poor performance. One customer on Amazon bought it because the ad said it had a thicker base. But what they receive had cheap quality. In another case, the holder cracked in two weak spots, further proving its poor quality.
Made In The USA
A big part of why our products offer the best quality is that we manufacture everything here in the USA. We don't run sweatshops in China where the whole purpose is to make a cookie-cutter of a holster that sells for $10 and throw our competitors out of the market: We take pride in our work. That's why our craftsmen make high-quality holsters and cases with the user in mind!
What Customers Are Saying About Motorola Holsters
Cracks in two weak spots and then comes off the clip and falls off your belt. Also clip is not big enough to fit the duty belt it advertises.
Not the same as the one pictured. The one pictured has thicker base.
The belt clip pops off my belt every time I get in or out of the rig. Better bet to get a holster style.
Product does not fit radio as advertised. Tried to return the unit and was unable to get a return authorization
What Customers Are Saying About Turtleback Holsters
Fits and looks great
So far I love it it does everything that it says it does looks like we will be placing the order for several more four other members of our department
Buying more of these for my department. Great product!
Turtleback Bonded Leather Holsters
Like our other products, we have ergonomic and reliable holsters and cases for the Motorola APX radios. As always, all of our products are American-made and come with a 100% satisfaction and 30-day money-back guarantee, so you can rest easy when choosing our products.
When you order this, you'll receive: Heavy Duty Fitted Holster with D Rings made for Handheld Radio Motorola APX 6000XE/8000XE. The product will be suitable for the purpose, size, and fit for which it was advertised.