Published by Carly on Oct 26th 2016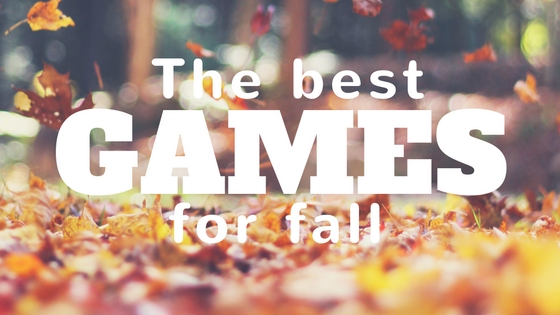 Best Games for Fall 2016
You are sitting in a waiting room and boredom is setting in; you need a game and you need one quick. Whether it is a mind-twisting puzzle or a simulation sports game, we've compiled, in no particular order, the best games available for Android and iPhone this fall.
1. Madden NFL Mobile
This sports favorite let's you jump straight into the game as the General Manager of your own NFL team. From stars like Antonio Brown to old favorites like Jerry Rice, you decide who you want to put in the game, and then you call the shots. This month's update to Madden NFL Mobile brought major improvements, like over 50 additional offensive plays, a new quarterback scramble, and real time live events. Madden NFL Mobile is free on iOS or Android.
2. Super Stickman Golf 3
The newest version of the award winning Super Stickman Golf features 20 courses so you can putt on your own or with friends in turn-based or real time multiplayer modes. Golf meets arcade in this game that is full of power ups. Plus, you can choose from 35 characters, 65 hats that each change play in different ways, and over 40 ball trails. There are tons of opportunities to collect cards, unlock levels, and gain other achievements. Super Stickman Golf 3 is free on iOS and Android.
3. 60 Seconds! Atomic Adventure
What better way to kill time than by prepping for an atomic attack? That is exactly what you get in 60 Seconds! Atomic Adventure. In this off beat action survival game you play Ted, a suburban family man faced with the task of defending your family in the face of the nuclear apocalypse in the 1950's. With the world against you, every second, every decision, and every item that you collect counts. Each game of survival presents a different scenario with surprising events occurring every round, so you'll never be bored with the same old story. 60 Seconds! Atomic Adventure isavailable on iOS for $3.99.
4. Risky Road
Playing Risky Road could not be simpler – all you have to do is tap and hold the screen. Yet, the simplicity of the game is part of its mindless enjoyment. In the back of your truck is an egg and it is your mission to drive as far as you can, over hills and a list of other obstacles, without letting your egg break. Plus, there are coins and other chances for bonus points to snag along the trip. Risky Road is free on iOS and Android.
5. Fear the Walking Dead: Dead Run-Tactical Run
If you are a fan of the Walking Dead , or maybe you've just got a hankering to kill some zombies, then Fear the Walking Dead: Dead Run-Tactical Run might be your new favorite game. Los Angeles has fallen to zombies and it is your job to defend the city as you find the balance between shooting too much and not enough. The game allows you to play as one of the main characters from the TV show, as you actually live out the plots of recent episodes. With over 40 weapons to choose from, you will never be short on ways to kill. Choose to play alone or with friends as you connect through the app. Fear the Walking Dead is free on iOS and Android.
6. Perchang
Just released this year, Perchang can be found somewhere between a puzzle and simulation game. The center of the game is based on delivering marbles to their goals. Sound simple enough? Just wait to see the obstacles that increase in difficulty with each level that you face. Perchang is a new kind of puzzle game that will keep you on your toes. It is available for $1.99 on iOS and free on Android.
7. Train Conductor World
You might not have ever dreamed of becoming a train conductor, but this game will get you hooked. Though at first it might appear to be a child's game, Train Conductor World requires quick thinking and swift strategy to keep your trains on track. So many things can go wrong when you're managing a railroad system, so you've always got to be on the look out. Bonus, the most recent update includes a crash test mode, so you can crash your trains just for the fun of it. Train Conductor World is free on iOS and Android.
8. AirAttack 2
In this top down shooter, you are a fighter pilot in World War II with a mission to destroy the enemy in each surrounding city area. AirAttack 2 is the sequel to the award winning game known for a unique soundtrack and quality graphic depictions of city scenes and explosive effects. The most recent upgrades to the game feature 5 choices of planes, along with a list of plane upgrades to enhance your fighting. You can play solo or challenge friends. AirAttack 2 is $0.99 on iOS and is free on Android.
9. Kubix
Newly released this fall, Kubix is a simple, yet challenging puzzle game meant to test your reflexes. The challenge of the game is clear: to tilt your device in order to avoid black squares while catching the white squares. It sounds easy enough, however intensity increases as you bust through levels and the black squares appear to be multiplying while your energy supply seems to more quickly decrease. Stay on the look out for the white question mark squares for helpful power-ups. While a solo player game, you can also connect with friends and keep track of high scores through Game Center. Kubix is free on iOS.
10. Sage Solitaire
A delightful mix of solitaire and poker, Sage Solitaire brings a new spin to simulated card games. The goal of each round is to clear all of your cards by making hands and the more complex the hands, the greater the points. Yet, part of the challenge is that hands can only be compiled using cards from at least two different rows. Beat the round and clear the cards before you run out of hands! You'll never get bored with 5 different modes of play and 40 achievements. Plus, don't forget to place your bets at the start of the game. Ultimately, Sage Solitaire combines the strategy and competitiveness of poker with the relaxation of solitaire. The developer prides himself on creating a card game optimized for play on mobile devices, which means the cards are easy to see and move around. Sage Solitaire is free on iOS and Android.
11. Flow Free: Hexes
With a brand new update, this spin-off of the fan favorite Flow Free and Flow Free: Bridged is now even more addicting. Flow Free: Hexes is a hexagonal shaped puzzle about matching color pipes. The goal of the game is to cover the entire board, leaving no empty spots, while connecting color pipes, without crossing or overlapping. You'll catch on to the first level quickly, but as you move up the levels, the hexagon grows, the pipes increase, and some levels feel nearly impossible. With two play options, free play mode and time trial mode, you can set your own pace and intensity level for the over 1,000 puzzles. Flow Free: Hexes is free on iOS and Android.